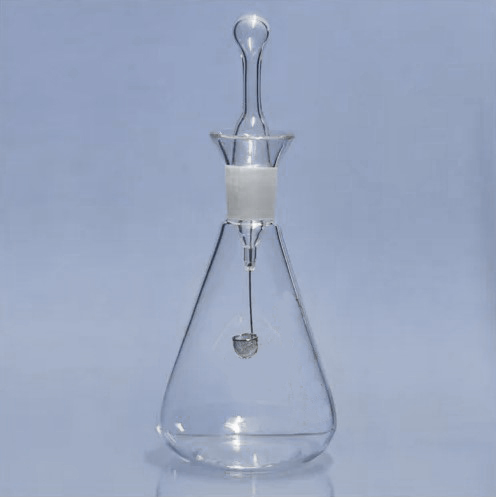 This is an Oxygen Combustion Flask of borosilicate glass, with a Standard Taper 40/45 socket mouth; without a stopper or sample carrier.
The Platinum Basket Sample Carrier has a perforated platinum mesh and features a 15 mm round and 10 mm height basket on its lower end that takes the paper-wrapped sample. The stopper fits the 250 ml / 500 ml / 1000 ml flask with the glass hook tip on the lower end; platinum sample carrier included. Black Paper Sample Wrappers absorb heat quickly for infrared ignition and die-cut from unsized paper. The sample area is 15 mm x10 mm, with a 60 mm extending strip as the fuse for ignition.
The procedure converts organic materials into soluble combustion products, which are then analyzed for chlorine, bromine, iodine, fluorine, and sulfur by inorganic, gravimetric, or volumetric methods.
The combustion products are free from metallic contaminants. This heavy-wall conical flask, of borosilicate glass, has a deep bell-shaped flaring lip. Its elongated ground glass stopper has an attached U-shape platinum wire gauze sample carrier. Specially cut, unsized paper sheets serve as low ash wrappers for the sample.
Part. No.
Capacity
Platinum Sample Holder Model
Platinum Sample Holder Length

13880

250 ml
Basket Model
60

|

80 mm

13881

500 ml
Basket Model
60

|

80 mm

13882

1000 ml
Basket Model
60

|

80 mm

13883

250 ml
Flat Model
60

|

80 mm

13884

500 ml
Flat Model
60

|

80 mm

13885

1000 ml
Flat Model
60

|

80 mm