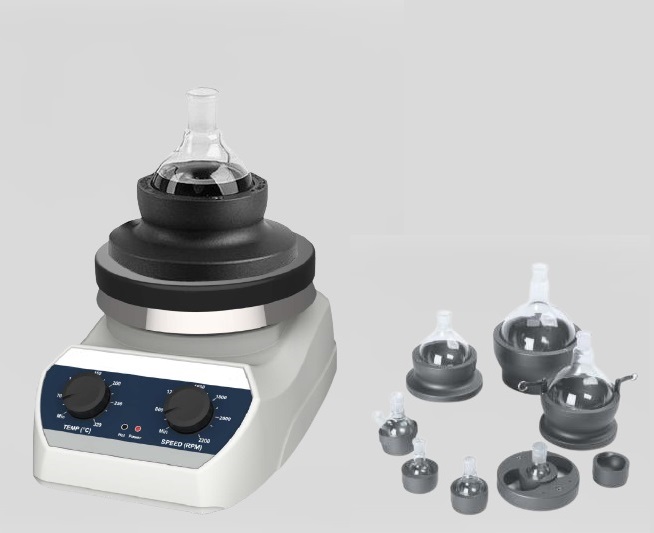 Heating anodized aluminum blocks is an easy-to-use, efficient, heating and stirring work station designed to accept standard round bottom flasks from 10ml to 5 liters. Heat-On offers benefits that make a real difference All these blocks are manufactured from solid aluminum providing excellent, even heat transfer to the entire block, preventing hot spots. These blocks are weight-saving design that reduces the thermal mass of the block, making the heat up times significantly faster. This weight-saving design also offers faster post-synthesis cool downtimes. Heating blocks feature a proprietary well design, that eliminates cracking of flasks, whilst allowing the Heat-On blocks to have deeper wells, maximizing the contact surface area to in-turn improve heat-up times, and minimizing the differential between the block and solution temperature. Heating blocks have two probe holes for insertion of temperature probe/s. Removable lifting handles ensure safe and rapid removal of the blocks from the heat source. Blocks can be used up to 200˚C and 260˚C for short periods. These are available as standard with an anodized finish.
Your benefits in the laboratory:
Heating Blocks enclose every flask perfectly, right to the top providing maximum surface contact to ensure rapid heat transfer without oil or water. The Heating blocks are innovative attachments that work without the need for heat transfer media such as water or oil.
ALLUMINIUM HEATING BLOCKS
|

Anodised
Part No
Flask Capacity
Placing

33316

50 ml
1

|

2

|

3 |

|

4

33317

100 ml
1

|

2

|

3 |

|

4

33318

250 ml
2

|

3 |

|

4

33319

500 ml
2

|

3

33320

1000 ml
1

|

2

33321

2000 ml
1